It was a typical two-year-old temper tantrum - rare for our little girl, but totally normal for her age. Complete with kicking, screaming and crocodile tears.
She wanted to watch High School Musical (2, securely preserved on DVR with a "save until 2020 when kids go to college or otherwise manually erased" option).
No dice....it was time to take Big Sister to cheerleading practice.
The brouhaha ensued.
After a few moments, Hubby got her under control. His hand on her shoulders, his face inches from hers.
"I love you very much, but we need to leave for cheerleading."
Her response?
"
I don't know how to handle that
, I want to watch High School Musical!"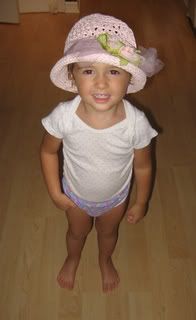 What have we gotten ourselves into??