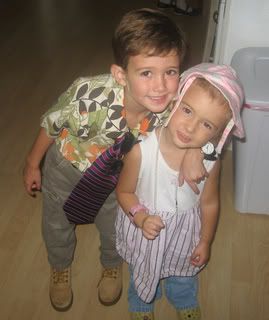 Outfit details as follows:
HIM
- Gymboree safari-print handsome shirt. Greenish-brown pants at least one - probably two - sizes to small. Work boots because his feet pop out of his other handsome shoes. One of dad's ties because boys wear ties to church. And a watch so he knows when it is time for donuts (community coffee & donuts afterwards). And plenty of "boy spray" - CK One, I think.
HER
- Light blue jeans. Under a flowy pink-and-white dress. With yellow crocs. Hat from when she was an infant, currently used on her dolls. Pink watch, because her big brother was wearing one. And a string of faux pearls.
They got ready for church together, so very excited to get dressed up. My heart was warm. We went to Mass exactly as shown, and he got several compliments on the tie.